August Dark Markets Update - Empire is Gone. Who's Left?
The King is dead, long live the King!
Earlier this week, Empire, the largest English speaking dark market, is suspected of having exit scammed. On August 20, the market started being unresponsive because of a DDOS attack. This was confirmed within a couple of hours on Dread by Melbourne, one of the market's moderators. Later the same day, the market was sometimes accessible with a lot of patience, but it soon stopped.
On the 26th, Se7en, the market's leading moderator, posted an announcement on Dread: "Empire Market Update". As the staff was unable to reach the admins for more than 48 hours, he stated that it would be unlikely that the admins would return.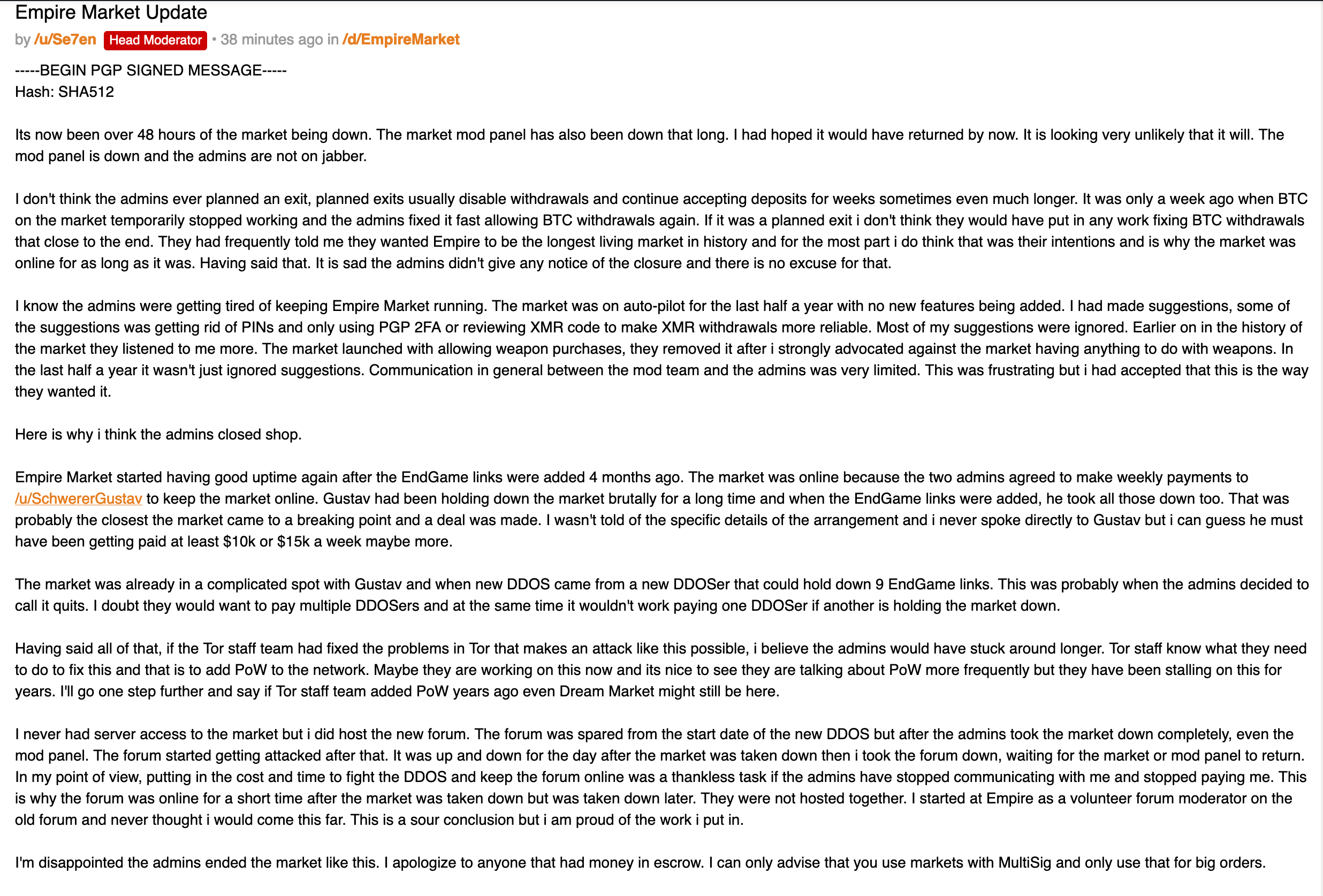 As of today, neither the admins nor the market has shown any proof of life. Interestingly, these events happened a little time after it was discovered that the IP 94.140.115.23 is bound to http://erj7kwqkdkl73ewsuq6stztehx2tehk2aidxlex3btrfnjqax3ucvgyd.onion(one of the market's addresses) on port 443, but there is no proof that this event is or is not playing a role here. The server is still active as of today. In addition, some reported that addresses belonging to Empire were moving funds, but after looking at them, I do not believe that the addresses were indeed Empire's.
Empire launched in January 2018, shortly after operation Bayonet. According to dark.fail, it had about 1.3 million users, and made an estimated profit of 2,638 BTC, or USD 30 million.
In any case, markets stopping doing business is not rare on the darknet, so let's have a look at the remaining contenders. I compiled a list with the most significant markets, from when they are active, some number on their listings, and (when possible) users and vendors, as well as the currencies they support, and the payment features they offer. To make this list, I chose to ignore all markets that are a forum (e.g., The Majestic Garden), and that are not English speaking (e.g., Hydra).
Note that the numbers that are provided in all of the following lists are all self-reported by the markets.

Looking at the list, we can observe that all the markets are relatively new, as the oldest ones are operating starting 2018. While BTC is still the most supported currency, XMR gained some traction (as mentioned on my Introduction to Monero), and is supported by almost all of the markets. Multi-signature escrow remains largely unpopular, as only three out of twelve markets are supporting it.
Two of the biggest markets, White House and DarkMarket are fortunately publishing some statistics on their homepage, so we are able to assess their growth over the last few days.
The following table presents the number of listings, users, and vendors at different times (all of the times for both markets are in JST - GMT +9) and for both markets.

Within a couple of days, WHM users count increased by 9.83% and passed the 200k bar, and its vendor count increased by 11.76%. DarkMarkets won slightly less new users and vendors, with a 6.07% and 13.42% of increase respectively. In any case, both these numbers are quite impressive, and these two markets are serious contenders to become the new king.